Foundation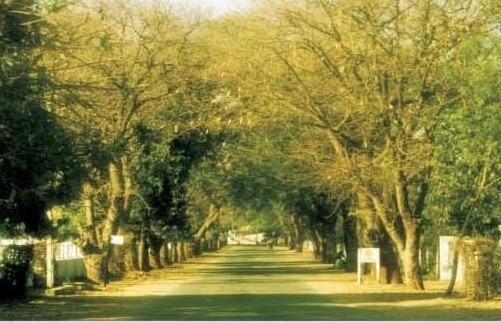 At the peak of the struggle for Independence, Bhaikaka and Bhikhabhai, the founding fathers of this campus, discussed with Sarder Patel how to use Education as an instrument for rural change. Their dream was to set up an educational township for the people, of the people and by the people.

This beautiful dream was blessed by two great sons of Mother India: Mahatma Gandhi and Sardar Patel. In 1945, the founding fathers registered a Public Charitable Trust: the Charutar Vidya Madal, (the Parent Body of this Institute) and laid the foundation of a unique township, which was inaugurated by India's first Prime Minister, Pandit Jawaharlal Nehru.


The first college of the township, V.P Science college, was inaugurated by Sardar Vallabhai Patel in 1947 with 600 students on its rolls. In 1948, Lord Mountbatten, British India's last viceroy inaugurated the state's first college of Engineering, for which Shri Ghanshyamdas Birla generously donated Rs.2.5 million. And in 1950, India's first President, Dr. Rajendra Prasad inaugurated a college of Commerce, i.e. B.J.Vanijya Mahavidyalaya. Since then, the campus has been growing in leaps and bounds.

The Township grew so rapidly that in 1955, Sardar Patel University sprung up without any Government funding and today it is one of the well- known university townships in India. Fortunately for the campus, Dr. H.M.Patel, a senior ICS officer, decided to settle down and guide the institutions after his retirement. It was his visionary guidance that led to the inception of this Institute in 1965. The campus has seen phenomenal growth, necessitating the expansion of infrastructure in our south campus, called New Vallabh Vidya Nagar, under the able leadership of our present Chairman, Dr. C. L. Patel who is himself an engineer and a visionary educationist. As a result of the dedicated efforts of these great leaders, we have established a tradition of creating new courses responding to the needs of the community and in keeping with our national aspirations.


Objectives
• To create a nourishing and stimulative learning environment through our training and research facilities ensuring a globally relevant language education based on eternal human values.

• To enhance creative and critical thinking by rewarding excellence in curricular and co-curricular activities, with a special focus on English Language Teaching in multilingual context.

• To nurture the inner urge for learning and thereby ensure the activation of life-long learning processes to empower the learners in terms of socio-economic and cultural resources.

• To synergize with government and non-government organizations for pre-service and in-service education of teachers; for psycholinguistic and sociolinguistic research; for curriculum development and production of instructional materials using print and electronic media; and for participation in internet enabled knowledge creation functions of global community.

• To create an awareness of the issues related to ecology and environment.

• To create a body of research in the field of ELT relevant to Gujarati speaking learners of English in particular and to other learners of English in India in general.